Your homepage fills a lot of shoes, but what are they?
In this episode of the Content Matters Podcast, Andy and Barry go through your homepage left to right, top to bottom, and desktop to mobile offering smart practices for creating a homepage that accomplishes the objective.
Highlights from the episode include:
Understanding the role of the homepage
Tricks and tactics to guide visitors deeper inside your website
A simple exercise to prompt you to put your best foot forward
Why the title tag is your single most important piece of SEO real estate (and how so many companies screw it up)
What goes in the navigation bar?
How mobile affects your homepage design—why responsive design matters
A great list of ways to gain your visitors trust on the homepage
Tips for creating an effective call-to-action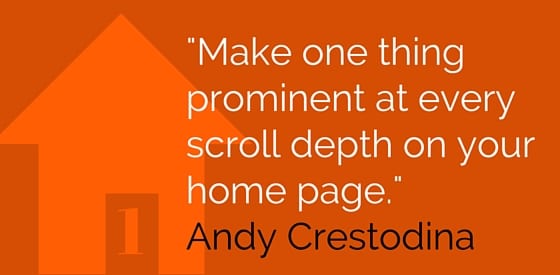 In the cheese & mousetrap segment:
Barry explains how to conduct the all-important blink and squint tests
Andy suggests that changing the point of view of your CTA copy to first person (eg. "Count Me In") often increases conversion
RESOURCES
On the next episode of Content Matters: How to optimize your blog posts.