"Your website is your mousetrap. Your content is the cheese."
It was the headline of a Content Marketing Institute post. It stuck with me. Years later, I met the author of that headline, Barry Feldman. First, he called me out for using it in a presentation without properly giving him credit. Next, we became friends and have collaborated ever since.
Those words brought us together.
Our latest collaboration is this podcast, Content Matters. Here's what you can expect:
20 minutes of practical marketing advice and conversation, every other week

A focus on one area of content marketing

Two power tips (mousetraps and cheese) on the areas of content and conversions

A post for each episode here on this site, and over at feldmancreative.com

A link in our newsletter, which is also bi-weekly
Each episode is recorded live on Blab, so if you'd like to listen in live, just follow me there and I'll send a notification when we go on-air.
Episode #1: Will Your Content Make a Difference?
Listen to "Will Your Content Make a Difference? [1]" on Spreaker.
Listen to this episode to hear Andy and Barry discuss:
What makes content meaningful?
How does any specific piece of content rise above the noise and make a difference?
The difference between good and great content
The website tool that tells you what people want from your content
4 ways to discover your audience's burning questions
3 metrics that will tell you if your content is hitting the spot
Is it wrong to believe all your content must attach to things you sell?
How to uncover if your content mattered
The content goldmine you're sitting on, but don't realize
The number one skill for all marketers
How sometimes great content is served to you on a silver platter.
How to get the voice of your customer onto your website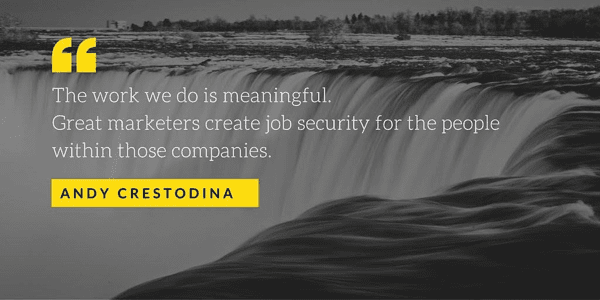 Did you like the show? Please write a review on iTunes.
In the next episode we'll discuss why headline matters.